Get started with Firstbeat Life for Partners today
By submitting this form, you agree to order a Firstbeat Life starting fee. The 250€ starting fee includes:*
1 seat for the Firstbeat Life online training course to become an official service provider. Additional seats are 250€ / person.

Activating and managing customer accounts per demand
- Starting packages 115 € / user (+shipping)
- License months 9 € / user / month
Firstbeat support materials and online sessions
- Access to Partners' Material Bank
30 days termination notice.
* By submitting this form I agree that the starting fee of 250 € will be charged.
The starting fee will be invoiced via email at the beginning of next month.
Firstbeat
Technologies reserves the right to change the p
rices
.
Read more about why and how to get started with Firstbeat Life
Firstbeat Life
Firstbeat Life™ is a wellness solution that helps promote health and well-being, identify potential health risks and helps users to perform at their best. For our partners, it provides access to world-class physiological measurements to enhance service offerings.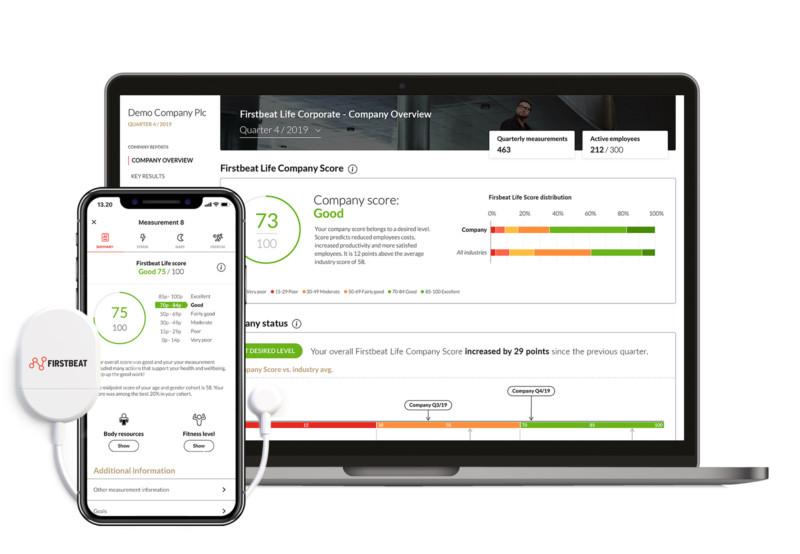 Firstbeat Life mobile app for tracking stress, recovery, sleep and exercise.
Personal measuring device for highly accurate heart rate variability and movement measurements.
Company and group reporting for identifying trends, risk factors and the effectiveness of actions.
Firstbeat Life Admin tool for managing customer data, results and reporting.
Keen to understand how Firstbeat Life works?
Check out this demo video
Firstbeat Life
Pricing of the Flexible

Subscription

-Based Service

For our partners, the price of the Firstbeat Life starter package is 115€ (+VAT + shipping) per user and for license months 9€ per month, per user (+ VAT).
The Firstbeat Life solution is available worldwide. You can check the updated list of countries with direct delivery options available here. For countries not currently listed, bulk delivery options are available – please contact us for prices and delivery options.
Firstbeat Life complements your own health and wellness programs. The service consists of starter packages and license months that you can purchase in your Firstbeat Life Admin account on demand.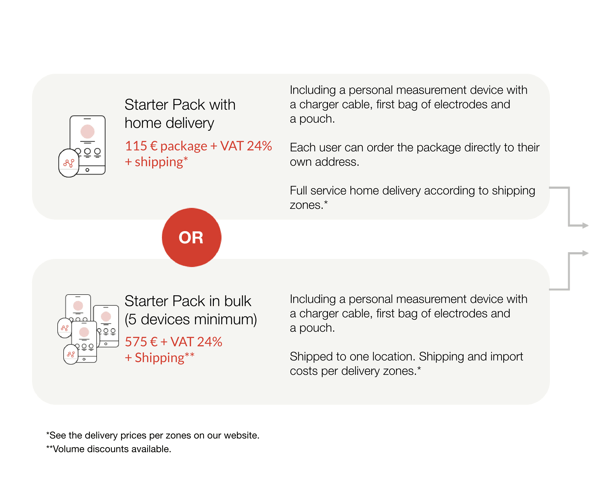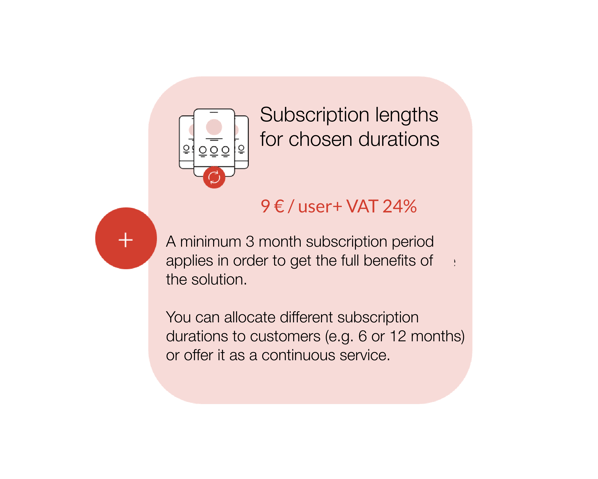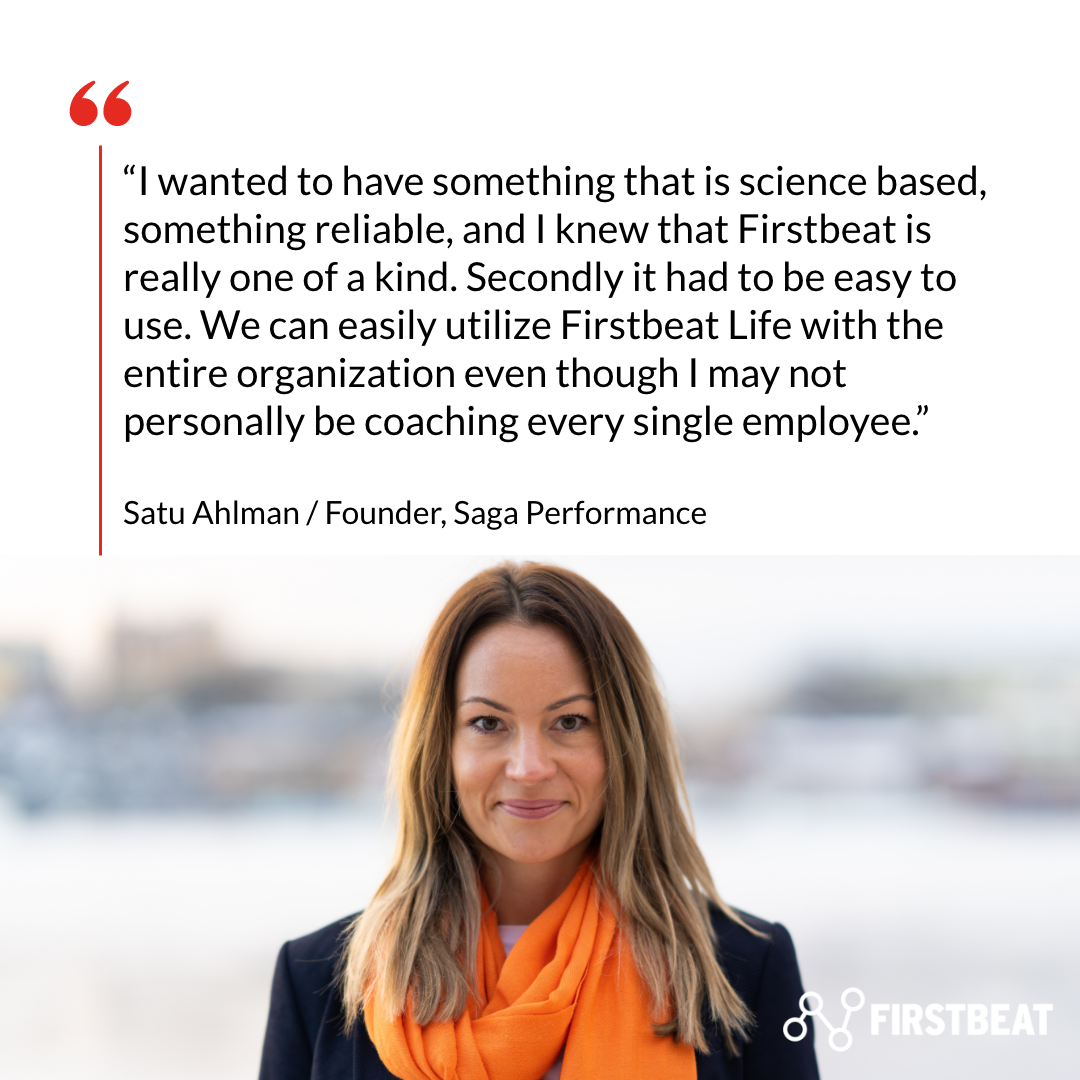 User story - Saga Performance
When Satu learned more about Firstbeat, she realized it would be an easy to way to cater for her clients to make them take themselves and their performance more seriously and also understand the effects of it. She was also looking for a partner where she could trust the science behind the data.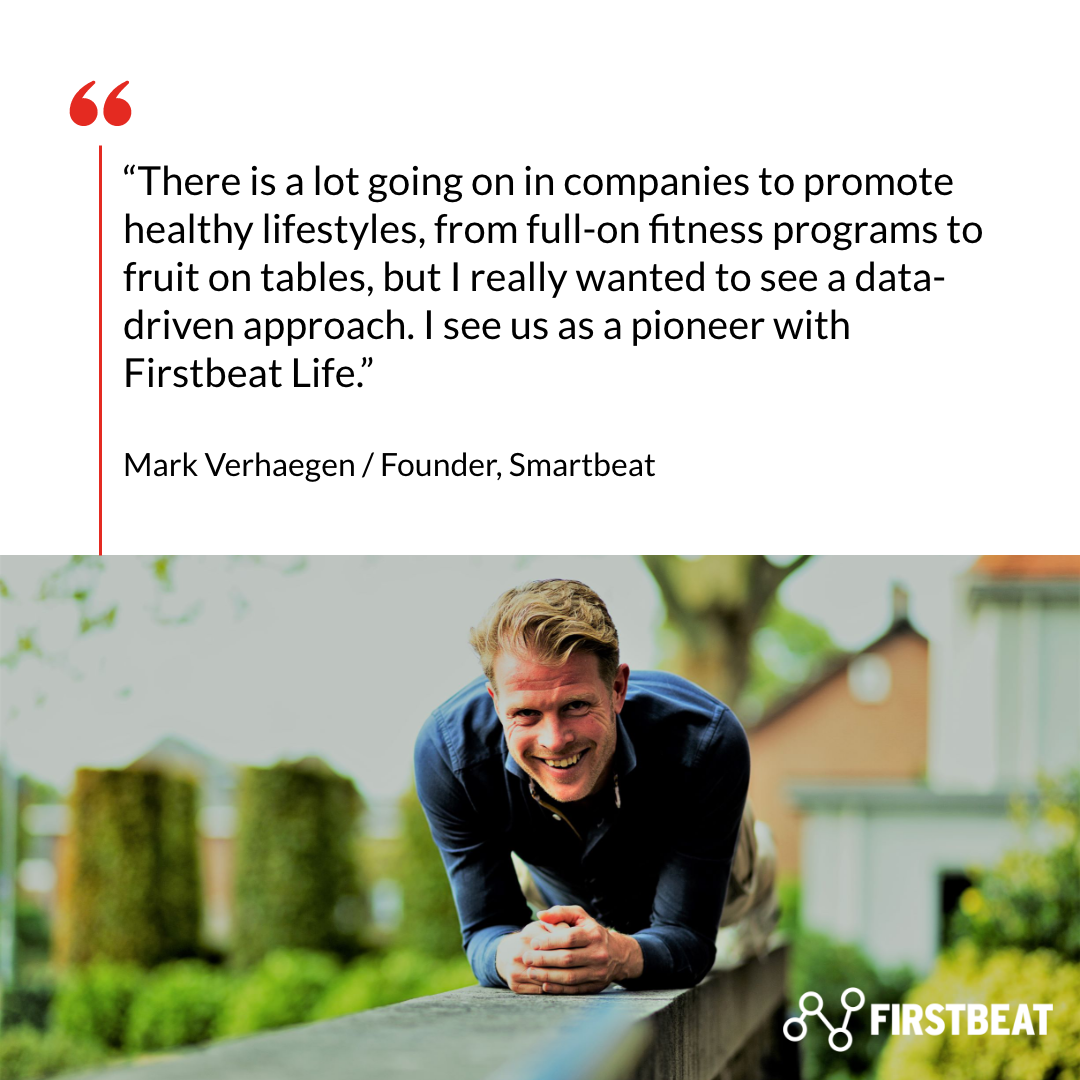 User story - Smartbeat
Firstbeat Life measurements offer a tremendous amount of insights, but for most, they don't know what the data means. That's the most important part of my work so far, helping people understand what data is telling them.
New category
Why Is Digital Health Promotion
Needed
?
People are increasingly struggling with the balance between stress and recovery. Health problems and costs are rising. The need for proactive support is growing. Consumer devices are not designed to meet this challenge and although health care is needed, the role may remain responsive.
Firstbeat Life meets the challenge; in particular, the digital solution promotes the health of individuals, teams and organisations with the science-backed confidence. It guides users towards healthy lifestyles and supports in identifying potential risk factors to prevent them.
As our partner you get access to world-leading technology and the physiological data to create even more effective services and build long-lasting customer relationships. Together, we can help people to achieve their own health and performance goals.
FIND OUT ABOUT FIRSTBEAT LIFE
Below you will find details that will help you get up and running with Firstbeat.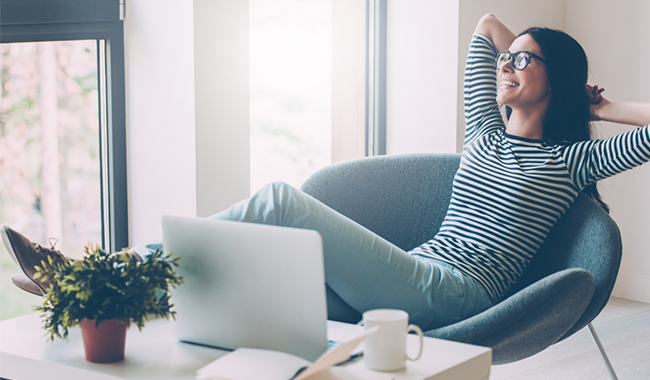 Start With Our Online Training
We will help you get started! After completing the online course, you will receive a certificate and your company can be added to the list of our official service providers.
Learn how to take advantage of Firstbeat Life.

Get to know the Firstbeat Life app

, our measurement method and the Firstbeat Life Admin tool.

Study at your own pace – the course includes about 5 hours of self-study material.

The price is 250€ per participant (+VAT).
Watch the Video: Firstbeat Life as Part of Your Business
In a video taken from the Firstbeat Life service provider online course, Janne Hautala, Firstbeat's development manager, explains how to utilize the service as a preventive tool for both well-being services and individual coaching.
Do you have any questions about Firstbeat Life?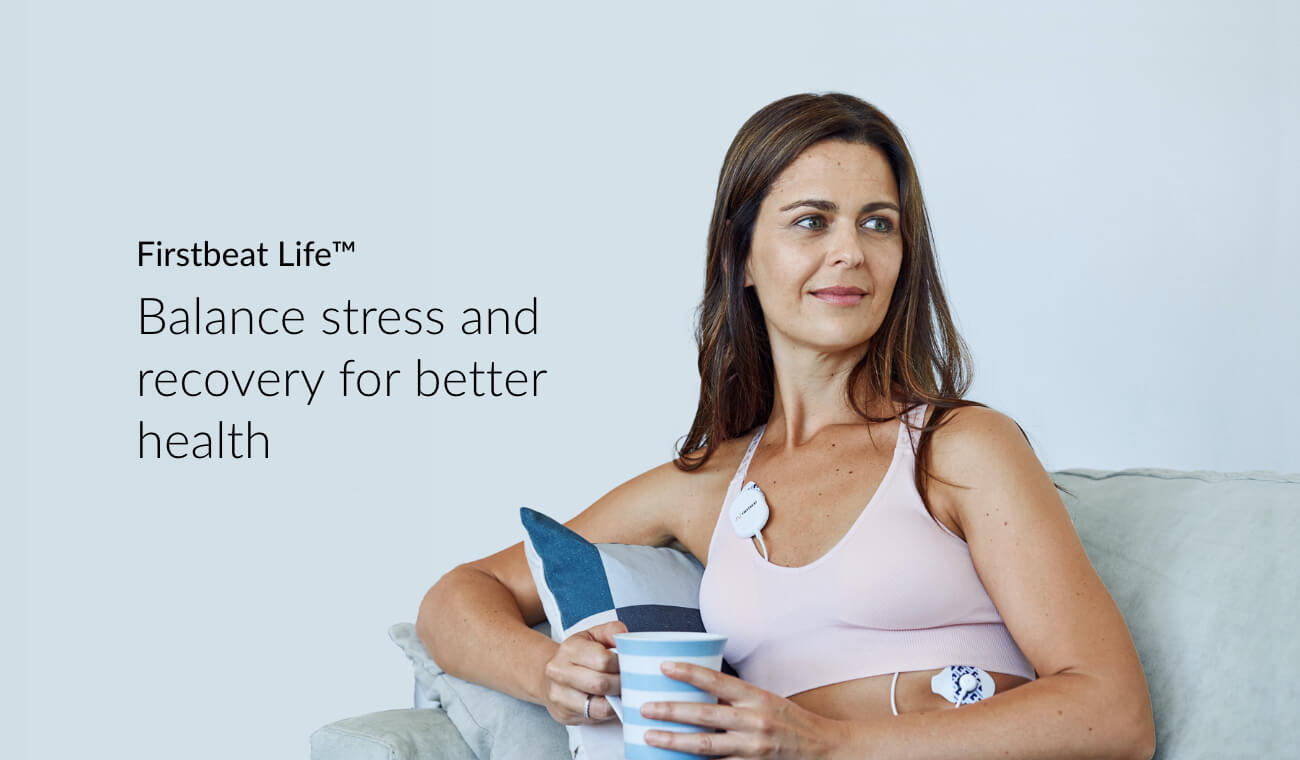 Accelerate Your Sales and Marketing
Firstbeat Life Partners Material Bank helps you to boost sales and marketing with guidelines, assets and ready-made materials.
You will receive the link and password to the Material Bank after signing the frame agreement.

Read the brand guidelines first.
Download the logo and visual assets to showcase the service on your own contents.
Utilize banners and text templates for collaborative news coverage on digital channels.
Download the sales and kick off presentations, add your own branding, and deploy in customer meetings.